Conference Rooms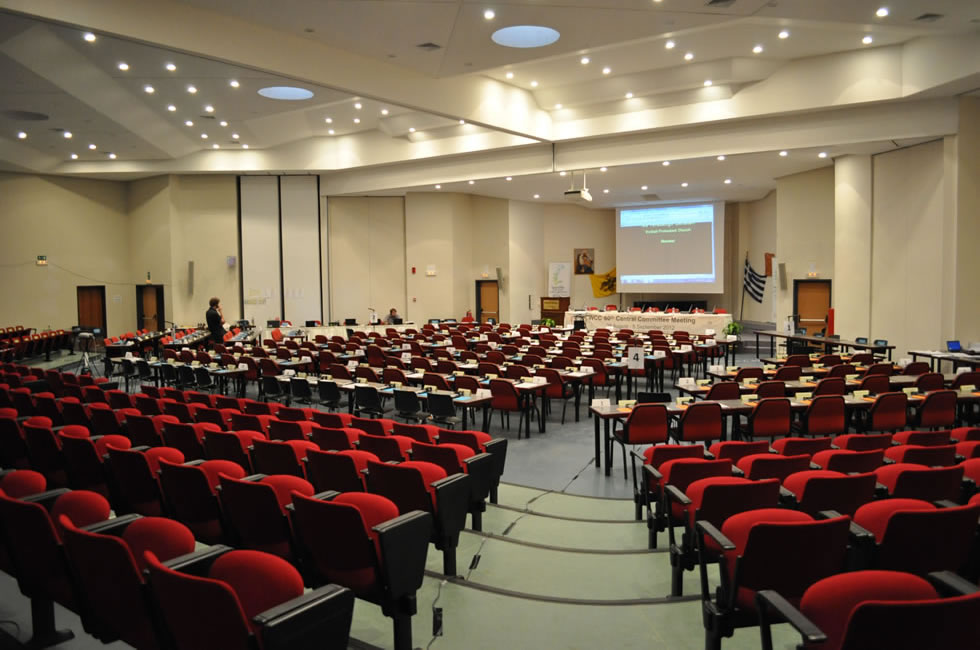 The extensive experience of the Orthodox Academy of Crete (OAC) constitutes the best guarantee for the successful organization of any demanding conference. Apart from the numerous events that have taken place at the Foundation over its 50-plus years of operation, more than 2,500 conferences have been successfully organized and hosted here (43% local or national, and 57% international / ecumenical conferences).
The OAC has two main conference rooms with a capacity of 600/400 and 90/70 people respectively without/with tables. The large conference room has 4 interpreter's cabins, and it may also be divided into 3 independent rooms (2x170 and 1x70 persons). In addition, the OAC has 5 more rooms (1x40, 1x35, 2x25, 1x20 seats with tables), which may be used by working groups, but also meeting offices, exhibition halls and comfortable spaces for outdoor events.
The conference rooms are equipped with all the technical equipment necessary for even the most demanding conferences, plus 30 double-faced poster boards (dimensions 0.90 x 0.90m and 0.90 x 1.40m). Specialized OAC staff provide technical support throughout the conference.
There is also wireless Internet access in both buildings, as well as in the outdoor spaces of the Foundation. The conference participants can also photocopy or print their texts.
---