Emmanuela Larentzaki, Mag.phil., Dipl. Paed.
Head of Conference Organization at the OAC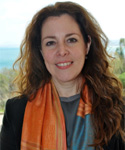 She was born and raised in Graz, Austria. A graduate of the Pedagogic Academy of Graz, Department of Primary Education (Padagogische Akademie der Diozese Graz-Seckau, 1993, with grade Excellent, Dipl. Paed.) and studies in Inter-cultural Education (Interkulturelles Lernen, 1993). Graduate of the Graz University, (Karl-Franzens-Universitat Graz, 1998, Mag. phil.) Department of English/American Philology, specialized in Linguistics, and Department of Art History. Also, a degree from the Department of German Philology regarding teaching German as a foreign language and as a second language (1998).  She has been working at the OAC as a scientific associate since January 1999. She is responsible for the organization and realization of educational seminars for adults, as well as international scientific conferences. She is involved with issues of education, culture, language and art. In 2013, she became Appointed Director of the OAC. From 2006 until 2013, a member of the Central Commission of the World Council of Churches (WCC) as a member of the delegation of the Ecumenical Patriarchate. Also, a member of the Staff Committee and the Steering Committee of the WCC.
Ε-mail: eloac.otenet.gr
---