Antonis Kalogerakis, Environmental Engineer, M.Sc.
Head of the OAC Institute of Theology and Ecology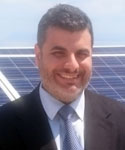 His duties at the OAC include: conferences organization, projects management, STEM programs development. He graduated with Distinction as Environmental Engineer from the Technical University of Crete. He then obtained a Master's degree from the University of Calgary in Canada. His graduate studies were fully supported by scholarships. His research experience includes participation in European and North American funded projects concerning environment, technology, health, renewable energy sources. He is a member of the Thematic Group: "Economic and Ecological Justice and Sustainable Future", of the Conference of European Churches, on behalf of the Oikosnet Europe and the OAC.  His past working experience includes CEO position at the municipal company "Kydon SA" in Chania, Crete, and working as Scientific Consultant Associate of the Greek Parliament. His service experience includes serving as an elected member of the Senate at the Technical University of Crete, President of the Student Association of Environmental Engineering at the Technical University of Crete, and Communications Representative of the Graduate  Students at the University of Calgary. He has authored several scientific articles and has been invited as speaker in international panels and conferences. He offers voluntary services in welfare organizations.
Ε-mail: kalogerakis@.oac.gr
---