Antonis Kalogerakis, Environmental Engineer, M.Sc.
Head of the OAC Institute of Theology and Ecology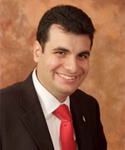 He graduated with distinction as environmental engineer from the Technical University of Crete, he has been awarded the master's degree with three-year scholarship from the University of Calgary in Canada and he is currently working on his doctoral thesis. His professional experience includes duties as CEO at the municipal company 'Kydon SA', scientific consultant at the Greek Parliament and researcher in scientific programs with EU and N.American funding. Papers authored by him have been published in scientific journals and in the minutes of international conferences. He was elected as a senate member of the Technical University of Crete, communications representative of graduate students of the University of Calgary and president of the association of environmental engineering students of the Technical University of Crete. Currently, he is serving as Head of the OAC's Institute of Theology & Ecology, OAC's Conference Leader and he is a reviewer of scientific papers. He also coordinates programs on 'Radio-Martyria' and he offers voluntary services in welfare organizations.
Ε-mail: [email protected].oac.gr
---